Grab My FREE E-BOOK...
"How Negative Energy Blocks You From Attracting the Partner of Your Dreams"
A Step-by-Step Guide to Level up your love-life
Your information is 100% secure and will never be shared with anyone.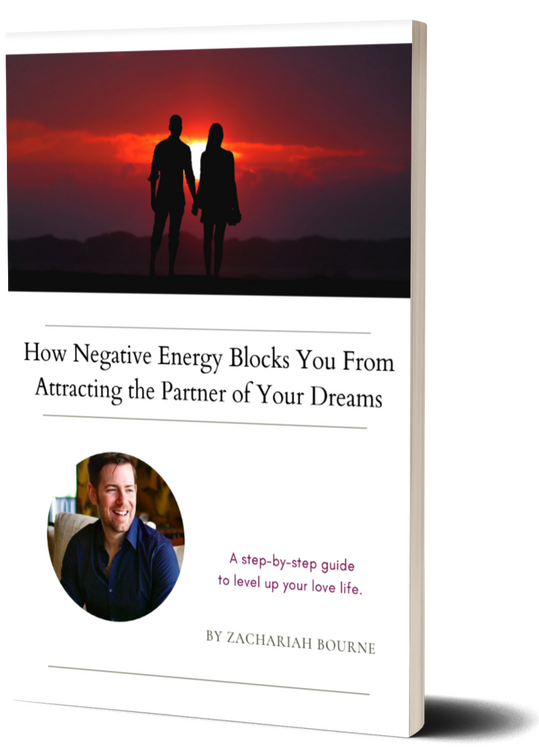 Are you ready to bring more happiness, confidence, and love into your life?
If Yes, this book is a perfect read for You.
Here are a things you'll learn instantly:
The No.1 love block that prevents you from attracting your soulmate, and how to banish it for good.

The "inner secret" to creating an unshakable, positive emotional state before a date that will have your potential partner hooked from the moment you meet.

How to break free from negativity and tap into the universe's power to attract your soulmate with ease.

And the secrets to using emotions to craft your dream soulmate and bring more love and happiness into your life.
Here is What others say about the book...
---
"The e-book is amazing. Your book inspired me! I feel love for myself and so much more confident! I like everything in this book and I love all of your tips. Thank you so much. I love it so much!" -Aui
"This E-Book couldn't be any better! I resonated with all of the tips. It is a daily reminder for me. So good!" -Shana
"This book is just awesome. It is the perfect source of positivity for anyone starting out looking for love, or for anyone looking to get on the right track, no matter how far they have travelled so far." -Helen
"This book is beautiful and packed with all the information you need to know and practice. So much awesome advice!" -Jamie
Written By International Dating Coach...
---
Zachariah Bourne is a passionate Personal Development and Dating Coach who has been helping thousands of people live their ideal life for seven years.His goal is to create more love and happiness in the world, and he does this by empowering his clients to become a match to their ideal partner.Zachariah's approach to personal development and dating is unique, focusing on change from the inside out, because he believes that through self-improvement and inner growth, people can attract their perfect match.Zachariah has been featured in Huffington Post, Success Magazine, and Addicted2Success, and is the author of the upcoming book "Love By Design."
ZACHARIAH BOURNE
Copyright 2023
All Rights Reserved